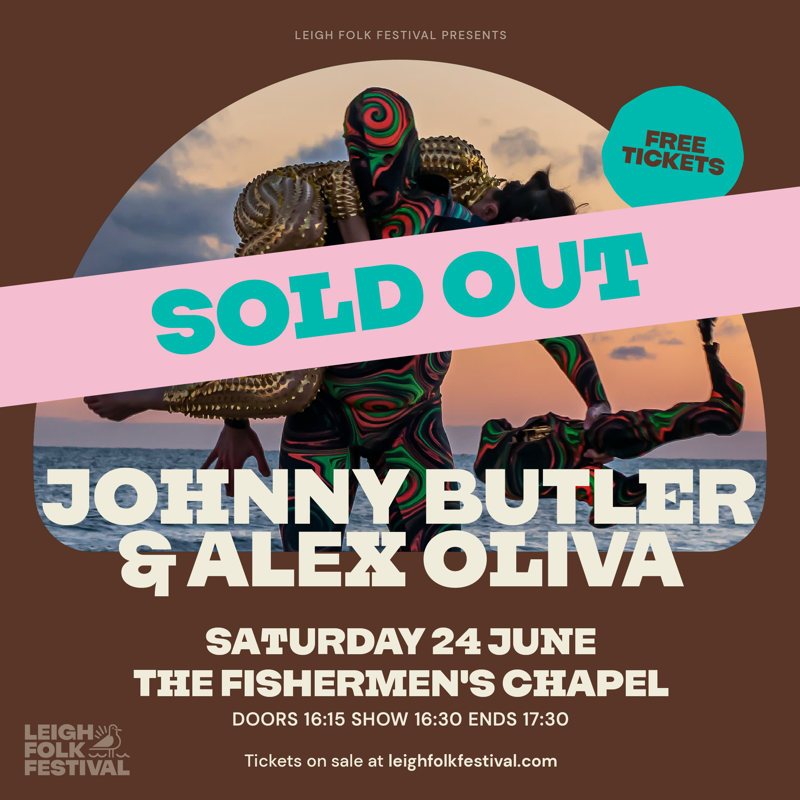 Leigh Folk Arts presents:
Johnny Butler + Alex Oliva
Johnny Butler + Alex Oliva
Free
Entry Requirements: Under 18's must be accompanied by an adult over the age of 18
This event is limited to 100 tickets, your ticket ensures their is space for you but only until 5 mins prior to the show beginning, after which your seat will be offered to walk-ins.
Doors: 16:15 | Starts: 16:30 | Ends: 17:30
There is no bar at this venue and no alcohol can be consumed on site.
All the way from Brooklyn, out of Seattle, grammy-award winning saxophonist for his work on Beyoncé's "Love on Top", Johnny Butler will be joining us for a unique performance combining music and dance with award winning NYC dancer & choreographer Alex Oliva.
Polymath Butler plays the saxophone, flute, clarinet, piano, guitar, electronics, composes, engineers audio, dances, and makes films. He performed and helped to orchestrate the the biggest Off-Broadway hit of 2022, Heather Christian's Oratorio for Living Things, earning him a Lucille Lortell Award.
Butler uses a wireless microphone and handful of electronics to create vast soundscapes while dancing onstage, blending the music, the dancer, and the daydream.
His last two albums, the critically acclaimed 'Thirteen Dances' & 'The Sunbather' have been written specifically for dance groups and soloists he has worked with.
Over the years Johnny has performed, supported, written, and recorded with many of his musical heroes including Levon Helm, Donald Fagen, tUnE-yArdS, Warren Haynes, Stevie Wonder, Randy Jackson, Counting Crows, Grand Funk Railroad and many more! He studied with the great saxophonist Gary Bartz and has had several working residencies in NY and environs.
Dancer, choreographer and educator Alex Oliva hails from California and now lives in NYC. She formed the dance company AnA Collaborations and has won awards at the San Francisco and Los Angeles Dance Film Festivals.
Her collaboration with Johnny combines theatre and dance elements with music to provide a genuinely original way forward.