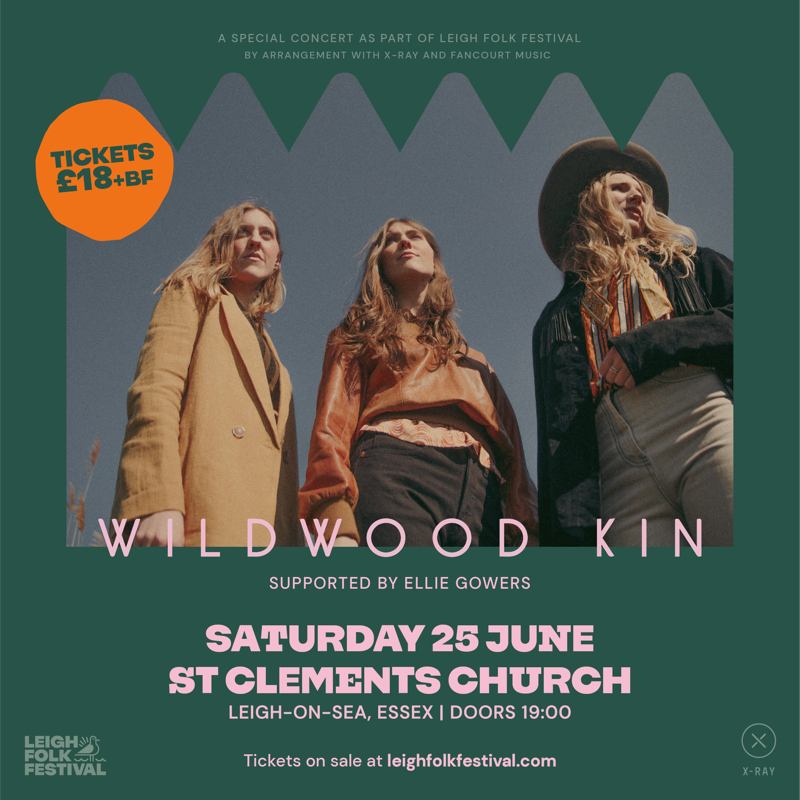 Leigh Folk Arts presents:
Wildwood Kin + Ellie Gowers
Wildwood Kin + Ellie Gowers
£18.00
Entry Requirements: 16+ under 16 must be accompanied by an adult 18+
Unreserved seating (e-ticket)
*A special concert as part of Leigh Folk Festival *
The first thing that strikes you about the second album by Wildwood Kin, self-titled because it captures the band's artistic vision so completely, is just how natural it sounds. The voices of three young women harmonise effortlessly, there are shades of Simon & Garfunkel, Rumours-era Fleetwood Mac and the churchy cadences of Fleet Foxes in the beautifully gentle folk rock melodies, and lyrics address profound themes like love, loss and spirituality in an unforced fashion. But above all, there is a spirit to the record that is as wild and free as the West Country moors Emillie, her younger sister Beth, and their cousin Meghann grew up on.
" Fleetwood Mac-like harmonies, hints of Fleet Foxes' desolate, spectral acoustica, echoes of Ben Howard's richly textured but ramshackle sparseness, a love of Mumfords-like propulsion and explosiveness " — The Sunday Times
Wildwood Kin may have an unusual gift for harmony, and a way with evergreen folk rock melodies, but ultimately they're three normal, relatable young women finding their way in the world and dealing with the same challenges, triumphs and tragedies as the rest of us. These themes are captured on their beautifully reflective second album, released in 2019. It is a tonic for our times.
Wildwood Kin's collaborative approach means one of the three will have the bare bones of a song, she will bring it to the other two, and they will work up the instrumental and harmony arrangements together. Unlike in most bands there is no leader or principal songwriter, which is why the bands process takes so long.
" The real deal " — Mark Radcliffe, BBC 6 Music
The band have amassed over 20m streams across their EPs and debut studio album. Their beautifully ambient sound lends itself to sync, with 'Hold On', one of the first songs they ever wrote featuring prominently in an episode of 'Grey's Anatomy.'