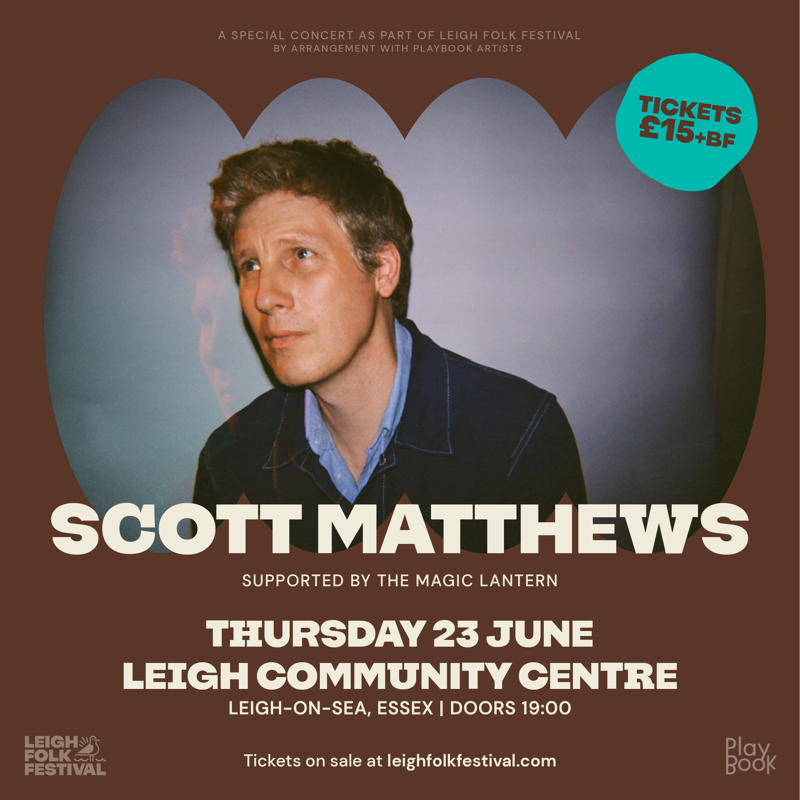 Leigh Folk Arts presents:
Scott Matthews + The Magic Lantern
Scott Matthews + The Magic Lantern
£15.00
Entry Requirements: 16+ under 16s must be accompanied by an adult 18+
Unreserved seated (e-ticket)
*A special concert as part of Leigh Folk Festival *
Ivor-Novello winning singer / songwriter Scott Matthews headlines the first of our exciting series of events.
Fresh from touring with Robert Plant opening for his project Saving Grace, Scott has long been established as one of the world's foremost purveyors of song. Championed by Janice Long on BBC Radio and previously supported the Foo Fighters on their acoustic Skin and Bones concerts around the country in June 2006, he's now released his seventh studio album, 'New Skin'. Known for his acoustic folk jams, guitar in hand and a voice that conveys raw emotion, this release sees an experimentation with new sounds and instruments. Electronic and ambient tones are matched with big, chiming electric guitars, while percussion, strings and woodwind are replaced by emotive synthesisers and pulsing drum grooves. 

"(Scott) has created a stunning, soulful sound, merging electro-synth, acoustics and haunting vocals, and combining hints of past genres, updated and reshaped with an innovative 2021 vibe" – The Upcoming. 
Witness Scott's remarkable musical evolution along with revisiting favourites from an extraordinary body of work.
Support comes from The Magic Lantern, aka British Australian singer songwriter Jamie Doe. Drawing on a wide range of influences from folk, jazz and contemporary music, he brings you beautiful songwriting, groove and lush orchestration. Part of a thriving scene of genre bending contemporary musicians in London, he has sung with Jamie Cullum at the BBC Proms and performed for the Queen and Commonwealth Heads of State. Latest and fourth album 'A Reckoning Bell' is an unashamedly emotional piece written and recorded while helping to care for his father with Alzheimers disease.